Wedding proposal in downtown Stockholm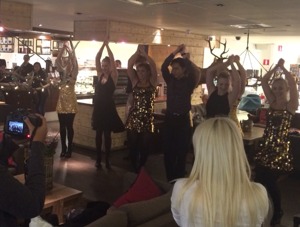 Earlier today plenty of coffee loving guests at the Espresso House, NK got to witness a lovely proposal when Nikita popped the question to Olga.
The groom to be, came to me a few months ago starting to plan his proposal. I hitched him up with Base23, the famous dance school in Stockholm where I have many former dance colleagues. Base23 created an exclusive choreography especially for his proposal and included him as well in the dance.
If she said yes? YES!!!