Research trip to castle in Sörmland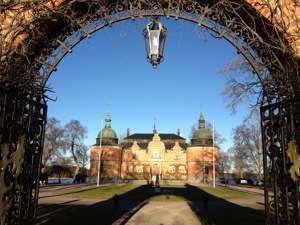 Every year when fall turns into winter and the wedding season slows down for me as a wedding planner I try to visit a couple of new reception venues.
Yesterday I drove down to Rockelstad Castle, located about 1,5 hours from Stockholm.
A 17th century old castle situated divenly by the shore of lake Båven. Anna von Posten who runs the castle together with her husband guided me and wedding photographer Jessica Lund around the estate for almost 2 hours .

If you're planning for a castle-wedding not too far from Stockholm this might very well be an option. The estate offers you a bit of an unordinary structure but please don't get scared off.
All catering, alcohol and service needs to be booked and taken care of by you.
I guess this can pass for either positive or negative depending on how you see it. It for sure demands a lot more preparations and work from your side but on the other hand you have all the possibilities in the world to make your wedding unique and just exactly the way you'd like it.
With some good logistic and preparations skills together with plenty of time for planning and coordinating I definately think this can work as a great wedding venue. As another good friend of mine said; with some time, love and tenderness this is a wonderful gem.