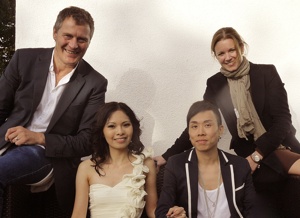 Now and then new acquaintances I meet ask me what I actually do as a wedding planner. Besides from the very obvious; helping out with reservations of church and reception venue, booking of hairdresser, photographer and florist it can sometimes also include totally different tasks such as difficult administrative work.
Alan and Chrissie from Hong Kong had decided to no get married in the traditional Hong Kong way. They had found pictures online of Gotland and decided this was their dream place to get married. Never had they thought they would find themself in a bureaucratic catch 22.

Around this time last year the classes I took in law, did for sure come in handy helping this wonderful couple to be allowed to be lawfully married in Sweden.

Alan and Chrissie have blogged about their special wedding story and all the hard work they had to go through to make their dream wedding a reality. The whole story can be found at http://visbygotland.wordpress.com/english-version/
Please enjoy!