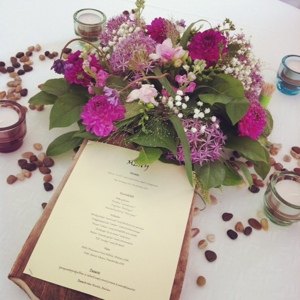 ...the next wedding took place in the archipelago of Roslagen, a couple of hours north of Stockholm.

The bride and groom really wanted the wedding to have a sense of Thailand but also to be a mix of the Swedish archipelago and summer. Together we created a warm nice feeling. A boathouse got to be the venue for the ceremony - a fantastic water backdrop during the intimate ceremony conducted by Fredrik Kronberg. Fredrik Swahn was invited to sing songs by Ulf Lundell and Kent.

Later Fredsgatan 12 stood for the summery food including a fabolous barbecue.
Menus handmade by the groom and signs, placing cards and seating chart written in perfect style by the bride's brother in law. In the tent 60 tons sand was placed on the ground to create a feeling of Thai beach. All guests were offered a pair of flip-flops with their name on when entering the tent.



Later bar and dance in the second boathouse. Altogether a fantastic wedding day for the bride and groom!